Occasionally you will see an indicator on the WordPress admin menu that a number of plugins are available to be updated. This image shows that 4 plugins are available for updating.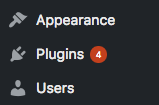 It is recommended that you update all of your plugins regularly. Often times the plugin authors will release an update which may fix a bug or patch a security flaw. Keeping up to date on plugin versions helps your site be compliant and secure.
Once you click into your Plugins page, the notifications of which plugin is available for an update will be easy to spot.

You can click on "update now" to trigger the plugin's automatic update.
To Consider
99% of the time you will not experience an issue while updating plugins; but there could be an instance where a plugin update conflicts with WordPress, other plugins or the theme itself. All of the plugins Opuscule uses on your site are incredibly popular and widely used, enough that the authors are keenly aware of potential issues and avoid them on testing environments.
The average WordPress website has more than eight plugins, whose creators are working feverishly to keep them up to date and safe from hackers. Obviously you're busy taking care of your business. Why not let Opuscule help you keep your site maintained and secure. Contact us about a custom plan, or check out our standard monthly package available to all.